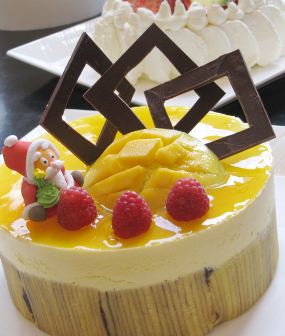 Jakarta - Mangga plus chocolate? This one is guaranteed to make you addicted. Moreover there is a legit layered with perfumed inserts. Piece? It is definitely not enough!
Material:
1 Recipe Flourless Chocolate Sponge
Mango Mousse:
300 g of mango puree
120 g caster sugar
10 ml lemon juice
500 g whipped cream
20 g gelatin powder, dissolve it with 2 tablespoons hot water
Complement:
Fruit Mango, diced
Lapis Legit, ready to use
Mango Jelly, ready to use
Method:
* Prepare cake according to recipe.
* Mango Mousse: Mix the mango puree, sugar and lemon juice until blended.
* Add the whipped cream and melted gelatine and stir well.
* Prepare a ring pan, pad with aluminum foil.
* Place a piece of cake at the bottom of the pan.
* Iris 3 cm wide layer legit. Arrange around cake until evenly and neatly.
* Pour the mousse mixture, flatten.
* Refrigerate several hours until hardened and frozen.
* Brush the surface with mango jelly until smooth.
* Garnish with diced mango and other decoration, if desired.
* Serve.
For two 18 cm diameter cake
Source:
Odilia Winneke
- detikFood