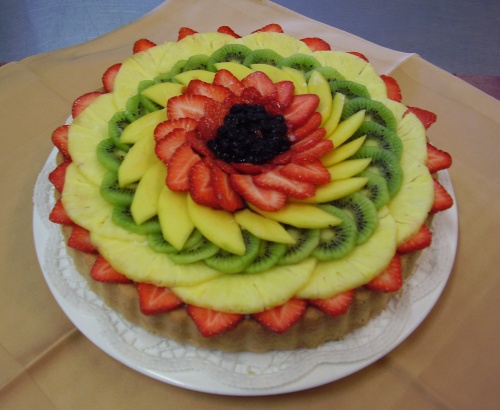 Ready In
40 Min


Ingredients
2 T. Quantreau or Grand Marnier (optional)
1 ea. 25cm (10inch) Pan di spagna or sponge cake*
How to make Fresh Fruit Tart
1. Make the syrup for the cake by combining the 100mL water, 100g sugar and the optional liquor into a small saucepan and bringing it to the boil. Remove the pot from the stove and set aside in a cool place.
2. Combine 50g of the sugar with the milk, vanilla and lemon essence into a 3 liter (3 quart) pot.
3. Place the pot over medium heat, stirring occasionally until it comes to the boil.
4. In the meantime, combine 75g sugar with the two eggs in a mixer bowl and whisk together until they double in volume and are pale in color.
5. Add the flour to the egg mixture and whisk it in to mix.
6. When the milk has boiled, add the egg mixture. (you'll now see why you used such a large pot).
7. Continue to cook until you return to the boil.(stirring constantly)
8. Pour the mixture onto a baking sheet or small roasting pan and sprinkle the top with the remaining 2T of sugar (this will prevent a skin from forming ).
9. Place the cream in the refrigerator to cool.
10. While the cream is cooling, proceed to slice-up your fruit. I have chosen to use pineapple, mango, kiwi, strawberries and blueberries, although the choice is up to you and your market's availability.
11. You are now ready to begin building the tart. First, apply the simple syrup with a pastry brush, using your judgment on the amount of syrup depending on how wet you want the cake.
12. Remove the cream from the refrigerator and give it a good mixing until it is nice and smooth, then apply a layer to the cake.
13. On top of the cream, begin to layer your fruit. Here is where you can be creative with colors and patterns.**
14. Get Ooooo's and Aaaaahhs from your friends and family!
Chef's Note:
*Most supermarkets sell these cakes pre-baked for convenience. If you would like to make your own, contact me by clicking on my photo in the upper right and I'll give you the recipe we use in Italy.
**Notice I used the larger slices (pineapple) on the outer ring and smaller sizes towards the middle. You can of course cut the pineapple into smaller pieces if you like.
~You can prepare your fruit tart in advance and brush the top with gelatine to preserve the fruit. Simply place 4-6 sheets of gelatine in a small sauce pot with cool water. When the sheets are soft, pour off the excess water and place the pot on low heat. When the sheets are completely melted, use a pastry brush to paint the top of the tart.
Source:
www.food-travels.com